Peelers
27. September 2017

Santa & Mrs. Claus
27. September 2017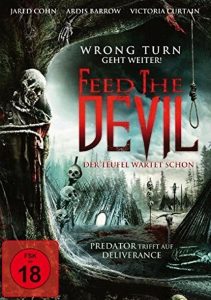 Auf der Suche nach einer ominösen Marihuana Plantage in den tiefsten Wäldern Mittelamerikas erleben der Kleinkriminelle Marcus und seine zwei junge Begleiterinnen einen wahren Horrortrip. Sie werden brutal mit einem alten Indianermythos konfrontiert, der die anfänglich abenteuerliche Goldgräberstimmung schnell kippen lässt. Als Marcus Freundin Lydia spurlos verschwindet, wird klar, dass es jemand oder etwas auf ihr Leben abgesehen hat und ausnahmslos keiner von ihnen bei dieser Suche sein Glück finden wird.

Originaltitel:
Feed the Devil.
Regie:
Max Perrier.
Drehbuch:
Max Perrier, Matthew Altman.
Darsteller:
Jared Cohn, Ardis Barrow, Victoria Curtain, Brandon Perrault, Nahka Bertrand, Tyson Houseman.
Genre:
Horror
Land:
U.S.A.
FSK:
18 Jahre.
Laufzeit:
91 Minuten.
Bildformat:
2.35:1 / 16:9 Widescreen
Sprachen:
Deutsch, Englisch.
Tonsystem:
DTS-HD MA 5.1, DTS-HD MA 5.1
Untertitel:
–
Extras:
Deleted Scenes, Trailer.
Vertrieb:
SchröderMedia Handelsgmbh.
Filmbewertung:
  2 von 5 Filmklappen.

"Feed the Devil" mit anderen Werken zu vergleichen hätte der Verleih nicht machen dürfen, denn der Film ist nicht mit anderen Filmen zu vergleichen. Der Film weckt durchgehend das Interesse, schafft es allerdings nie wirklich interessant zu sein. Denn hier wurde offensichtlich sehr viel Potenzial vergoldet. Eine blutige Waldspukgeschichte mit düsterer Atmosphäre. Leider mangelt es der Geschichte oftmals an Logik. Zudem zieht sich vieles in die Länge, weniger wäre an dieser Stelle mehr gewesen. Ausreichend+

Bildbewertung:
  3 von 5 Fernsehern.

Das Bild wirkt leider ziemlich verwaschen und dadurch auch etwas gekünstelt, die kräftigen Farben zeigen sich ebenfalls so. Irgendwie wirkt dadurch alles so als befände man sich in einen Traum. Unheimlich!

Tonqualität:
  4 von 5 Boxen.

Der Ton ist trotz fader Synchronisation klanglich absolut gut, sehr dynamisch, sauber und auch verstörend.

Bonusbewertung:
  1 von 5 Sternen.

Geschnittene Szenen und ein Trailer zum Film sind nicht gerade ein Hit!

Zusätzliche Info:
–
Abspann:
–
Wendecover:
Ja.
VÖ-Kauf:
07. September 2017
EAN:
9120052894660
Weitere Infos:
www.facebook.com/schroedermedia
Easter Eggs:
Keine.