The Missing – Staffel 2 (2 Discs)
27. September 2017

Halley – Das Leben eines Zombies
27. September 2017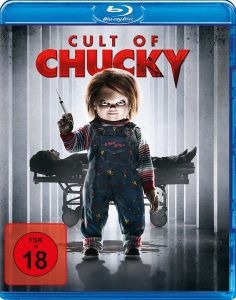 Seitdem sie für den Mord an ihrer Familie verantwortlich gemacht wurde, sitzt Nica Pierce (Fiona Dourif) in einer psychiatrischen Anstalt für geisteskranke Straftäter. Nach ihrem vierjährigen Aufenthalt dort ist sie mittlerweile der Überzeugung, dass nicht die von einem Serienkiller besessene Puppe Chucky (Stimme im Original: Brad Dourif), sondern tatsächlich sie selbst ihre Verwandten umgebracht hat. Doch als ihr Psychiater in den Gruppensitzungen der Patienten eines Tages auf eine allzu vertraute Puppe als neues therapeutisches Mittel zurückgreift, nimmt in der Anstalt eine grausame Mordserie ihren Lauf. Nach und nach dämmert es Nica, dass sie vielleicht doch nicht verrückt ist. Derweil versucht Andy Barclay (Alex Vincent), der bereits in seiner Kindheit mit Chucky zu tun hatte, Nica zu Hilfe zu eilen. Allerdings muss er dafür erst an Chuckys Braut Tiffany (Jennifer Tilly) vorbei, die alles tun würde, um ihre große Liebe zu schützen.

Originaltitel:
Cult of Chucky.
Regie:
Don Manchini (Chuckys Baby).
Drehbuch:
Don Manchini (Chucky – Die Mörderpuppe).
Darsteller:
Fiona Dourif (Safe), Jennifer Tilly (Bounce), Brad Dourif (Der Herr der Ringe), Alex Vincent (Chucky 2), Summers H. Howell, Michael Therriault, Grace Lynn Kung, Elisabeth Rosen, Zak Santiago, Ali Tataryn.
Genre:
Horror
Land:
U.S.A.
FSK:
160 Jahre.
Laufzeit:
91 Minuten.
Bildformat:
1.78:1 / 16:9 Widescreen (1920x1080p)
Sprachen:
Deutsch, Englisch, Französisch, Italienisch.
Tonsystem:
DTS-HD MA 5.1, DTS-HD MA 5.1
Untertitel:
Deutsch, Englisch, Niederländisch, Spanisch.
Extras:
Geschnittene Szenen, Im Wahnsinn von Cult of Chucky, Good Guy Gone Bad: Die Inkarnation Chuckys, Das Puppenhaus.
Vertrieb:
Universaal Pictures Germany GmbH
Filmbewertung:
  3 von 5 Filmklappen.

Die kleine, fiese Killerpuppe ist zurück. Nach den sehr enttäuschenden 6.-Teil der Reihe geht es hier nun wieder etwas Chucky-mäßiger voran. Es gibt zwei oder drei typische Chucky-Sprüche (leider nur) und etwas kreativere Mordszenen, doch die Story ist auch hier wieder sehr dünn und vorhersehbar. Wie schon bei Teil 6 überzeugt lediglich das Ende mit einigen Überraschungen. Leider erzeugt die Good Guy Puppe keine Spannung mehr, zu kühl und ohne richtigen Biss. Fans werden dennoch mit Chucky vergnügt spielen. Befriedigend-

Bildbewertung:
  4 von 5 Fernsehern.

Hier gibt es nichts dran auszusetzen. Gestochen klare Bilder, tolle Farben und ein kräftiger Schwarzwert.

Tonqualität:
  4 von 5 Boxen.

Ein sehr dynamischer Ton mit einer sauberen und stimmigen Klangatmosphäre.

Bonusbewertung:
  3 von 5 Sternen.

Für Fans sehr interessant!

Zusätzliche Info:
Teil 7 der Reihe.
Abspann:
Ja! Nach dem Abspann kommt noch eine wichtige Szene. Ein Wiedersehen mit einer alten Bekannten aus Teil 2.
Wendecover:
Ja.
VÖ-Kauf:
09. November 2017
EAN:
–
Weitere Infos:
www.universal-pictures.de
Easter Eggs:
Keine.