Sight Unseen (englisch)
25. September 2017

Cult of Chucky
27. September 2017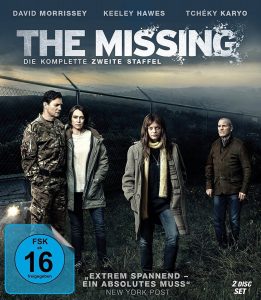 2003 verschwindet die Schülerin Alice Webster spurlos. Ihre Eltern Gemma und Sam, die auf einer britischen Militärbasis in Deutschland stationiert sind, werden ihre Tochter ein Jahrzehnt lang nicht wieder sehen.

Elf Jahre später taumelt Alice, mittlerweile eine junge Frau, schwer traumatisiert die Straßen ihres Heimatortes entlang. Was ist ihr passiert? Die plötzliche Rückkehr wirft ihre inzwischen zerrüttete Familie noch weiter aus der Bahn. Doch ist Alice wirklich die, für die sie sich ausgibt? Die Aufklärung des Falls soll die schwangere Offizierin Eve Stone übernehmen, doch die Dinge überfordern sie schnell. Unterstützung bekommt sie vom damaligen Ermittler Julien Baptiste, für den der Fall bald zu einem Rennen quer durch Europa wird.

Mit neuen Charakteren, Darstellern und Schauplätzen geht die hochgelobte BBC-Thrillerserie in die zweite Runde. An der Seite von Baptiste-Darsteller Tchéky Karyo sind dieses Mal Keeley Hawes ("Spooks" ) und David Morrissey ("The Walking Dead").

Originaltitel:
The Missing
Regie:
Ben Chanan.
Drehbuch:
Harry Williams, Jack Williams.
Darsteller:
Techéky Karyo (Bad Boys), David Morrissey (The Reaping), Roger Allam, Isabelle Barth, Florian Bartholomäi, Jake Davies, Sura Dohnke, Daniel Ezra, Laura Fraser, Abigail Hardingham, Keeley Hawes, Anastasia Hille.
Genre:
Krimi/Drama/Serie
Land:
UK, USA, Belgium, France
FSK:
16 Jahre.
Laufzeit:
472 Minuten.
Bildformat:
1.78::1 / 16:9 Widescreen
Sprachen:
Deutsch, Englisch, Italienisch.
Tonsystem:
DTS-HD MA 7.1, DTS-HD MA 5.1
Untertitel:
Englisch.
Extras:
Episodenguide, Behind the Scenes, Trailer.
Vertrieb:
Pandastorm Pictures (Edel)
Serienbewertung:
  4 von 5 Filmklappen.

Auch Staffel 2 ist ziemlich gut und spannend umgesetzt, trotz kleiner Eingewöhnungszeit, denn hier wird ein ganz neuer Fall erzählt. Teilweise waren die Kritiken bei der zweiten Staffel besser, wir von OBZ sind da eher anderer Meinung. Leider empfinden wir den neuen Fall nicht mehr so Wendungsreich und stellenweise etwas vorhersehbar. Auch die Charaktere können nicht mehr so richtig fesseln, da war bei der Vorgängerstaffel vieles einfach packender gespielt. Ein spannender Fall ist aber er allemal und man muss den Machern hoch anrechnen das Sie keinen Abklatsch von Staffel 1 gedreht haben. Auch diesen Fall darf man nicht verpassen. Gut+

Bildbewertung:
  4 von 5 Fernsehern.

Ein kühler und düsterer Farbstil sowie eine glasklare Schärfe überzeugen hier. Der Kontrast hellt das ein wenig auf.

Tonqualität:
  4 von 5 Boxen.

Die Dialoge stehen hier im Vordergrund mit einer guten Dynamik. Doch der Ton bewegt sich nicht nur im vorderen Bereich. Sauber und glaubwürdig!

Bonusbewertung:
  3 von 5 Sternen.

Sehr gutes Bonusmaterial für eine Serie. Die aufgeteilten Behind the Scenes Specials (auf Disc 1 und 2) haben zusammen eine sehr lange Laufzeit und sind sehr informativ.

Zusätzliche Info:
Staffel Zwei spielt in Deutschland, genauer gesagt in Eckhausen. Ob die Serie dort wirklich gedreht wurde, dazu liegen uns keine Informationen vor. Nicht immer sieht dort alles nach Deutschland aus aber zum Beispiel der Damm ist schon mal echt.
Abspann:
–
Wendecover:
Ja.
VÖ-Kauf:
29. September 2017
EAN:
4260428051633
Weitere Infos:
www.pandastorm.com
Easter Eggs:
Keine.