Rockwärts – Nacht in der Stadt
29. September 2017

Bates Motel – Season 5 (2 Discs)
3. Oktober 2017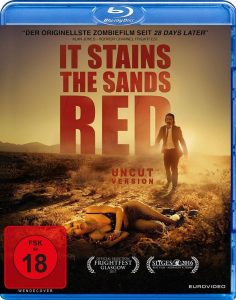 Molly (Brittany Allen) ist mit ihrem Freund Nick in der Wüste von Nevada unterwegs, als ihr Wagen irgendwo im Nirgendwo stecken bleibt. Ungünstiger könnte der Moment nicht sein, denn sie befinden sich mitten in einer Apokalypse und ein Zombie nähert sich, der es auf Nicks Innereien abgesehen hat. Der entsetzten Molly bleibt nichts anderes übrig, als mit ihren hochhackigen Tretern quer durch die Wüste zu fliehen – stets mit ihrem hartnäckigen neuen Verehrer im Schlepptau. Bis an die Zähne bewaffnet mit Wodka, Kokain, Kippen und Tampons versucht sich die junge Frau in Richtung Zivilisation durchzuschlagen. Doch zwischen Hitze und dunklen Nächten wird ihr klar, dass eine wandelnde Leiche noch das Geringste ihrer Probleme ist.

Originaltitel:
It Stains the Sands Red
Regie:
Colin Minihan.
Drehbuch:
Colin Minihan, Stuart Ortiz.
Darsteller:
Brittany Allen, Juan Riedinger, Merwin Mondesir, Kristopher Higgins, Andrew Supanz, Nico David, Michael Filipowich.
Genre:
Thriller/Drama.
Land:
USA
FSK:
18 Jahre.
Laufzeit:
93 Minuten.
Bildformat:
2.40:1 / 16:9 Widescreen (1080p)
Sprachen:
Deutsch, Englisch.
Tonsystem:
DTS-HD MA 5.1, DTS-HD MA 5.1
Untertitel:
–
Extras:
Making of, On the Set, Trailer.
Vertrieb:
EuroVideo Medien GmbH
Filmbewertung:
  4 von 5 Filmklappen.

Soundtrack/Score, Landschaften, Kulissen, Story und Co., alles wurde hier harmonisch abgestimmt und erzeugt somit ein stimmiges Bild. Der Film bietet Abwechslung im Zombieland, kein 08/15-Gebeisse wie man es sonst vom Fließband erwartet. Ein Horrorstreifen ist "It Stains the Sands Red" aber nicht auch wenn schon mal derb die Eingeweide springen. Wir finden es handelt sich hier um einen Thriller mit Elementen eines Dramas. Und das ist letztendlich auch das was den Film so interessant und fast Neuartig erscheinen lässt. Empfehlenswert! Gut+

Bildbewertung:
  4 von 5 Fernsehern.

Neben den sehr hellen Kontrast überzeugt das Bild mit einer gestochen klaren Schärfe und kräftiger Farbwiedergabe. Der Schwarzwert ist nicht perfekt aber ordentlich.

Tonqualität:
  4 von 5 Boxen.

Die Dialoge stehen hier eindeutig im Vordergrund und sind somit sehr dynamisch und durchgehend klar verständlich. Doch frontlastig kommt der Ton keinesfalls daher. Sauber!

Bonusbewertung:
  2 von 5 Sternen.

Einige kleine aber feine Einblicke von den Dreharbeiten.

Zusätzliche Info:
Die Hauptdarstellerin hat die deutsche Synchronstimme von Sandra Schwittau (Bart Simpson, Annie Spadaro aus Caroline in the City).
Abspann:
Nein. Nach dem Abspann kommt nichts mehr.
Wendecover:
Ja.
VÖ-Kauf:
06. Oktober 2017
EAN:
–
Weitere Infos:
www.eurovideo.de
Easter Eggs:
Keine.