Die 12 Weihnachtsdates
27. September 2017

The New Big Boss – Die Rückkehr des Kung Fu Killers
29. September 2017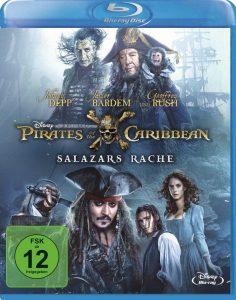 Ein vom Pech verfolgter Captain Jack Sparrow findet sich in einem völlig neuen Abenteuer wieder: Tödliche Geister-Piraten, angeführt von seinem alten Erzfeind, dem furchteinflößenden Captain Salazar (Bardem), entkommen aus dem "Teufels-Dreieck" und sollen jeden Piraten auf See töten – einschließlich Jack Sparrow. Seine einzige Überlebenschance besteht darin den legendären "Dreizack des Poseidon" zu finden, ein mächtiges Artefakt, das seinem Besitzer völlige Kontrolle über die Meere verleiht.

Originaltitel:
Pirates of the Caribbean: Dead Men Tell No Tales
Regie:
Joachim Ronning, Espen Sandberg.
Drehbuch:
Jeff Nathanson.
Darsteller:
Johnny Depp (Alice im Wunderland), Javier Bardem (Skyfall), Geoffrey Rush (Im Auge des Sturms), Brenton Thwaites (Oculus), Kaya Scodelario (Maze Runner), Kevin McNally, Golshifteh Farahani, David Wenham, Stephen Graham, Angus Barnett, Martin Klebba, Orlando Bloom, Keira Knightley.
Genre:
Horror
Land:
U.S.A.
FSK:
12 Jahre.
Laufzeit:
129 Minuten.
Bildformat:
2.40:1 / 16:9 Widescreen (1920x1080p)
Sprachen:
Deutsch, Englisch, Italienisch.
Tonsystem:
DTS-HD MA 7.1, DTS-HD MA 5.1
Untertitel:
Deutsch, Italienisch, Englisch.
Extras:
Making of, Pannen beim Dreh, Fototagebuch, Geschnittene Szenen.
Vertrieb:
Disney 2017.
Filmbewertung:
  4 von 5 Filmklappen.

Nach dem eher enttäuschenden vierten Teil der Reihe fährt "Salazars Rache" wieder mehr in die richtige Richtung. Story und Action knüpfen an den alten Zeiten an und auch der typische Witz wirkt wieder viel gelungener. Eigentlich ein richtig gutes Piratenabenteuer, leider zeigen die beliebten Charaktere immer mehr Ermüdungserscheinungen, die Lust entweicht allmählich und die Geschichte benötigt einige Klärungen. Leider kommen beim Verlauf immer wieder einige Fragen auf. Die Machen gaben sich hier sehr viel Mühe und haben auch einen sehr unterhaltsamen Film geschaffen, doch so genial wie bei den ersten drei Filmen ist es leider nicht mehr. Gut-

Bildbewertung:
  4 von 5 Fernsehern.

Das Bild wirkt an einigen Stellen etwas hochgerechnet (man hat so den Eindruck bei den Nahaufnahmen) und doch ist es immer sehr detailreich, die Schärfe ist glasklar, der Kontrast ausreichend hell eingestellt und der Schwarzwert ordentlich satt.

Tonqualität:
  5 von 5 Boxen.

Beim Sound gibt es absolut nichts dran auszusetzen. Dieser erklingt sehr dynamisch und mit hervorragenden Toneffekten die ein ausgezeichnetes Raumerlebnis versprechen. Sauber und ebenfalls mit vielen Details im Klang.

Bonusbewertung:
  3 von 5 Sternen.

Einige kurzweilige Standardextras für Fans. Mehr nicht!

Zusätzliche Info:
Teil 5 der Reihe.
Abspann:
Wie bei allen Vorgängerteilen kommt auch hier noch eine Filmszene nach dem Abspann.
Wendecover:
Ja.
VÖ-Kauf:
07. September 2017
EAN:
9120052894660
Weitere Infos:
www.disney.de
Easter Eggs:
Keine.